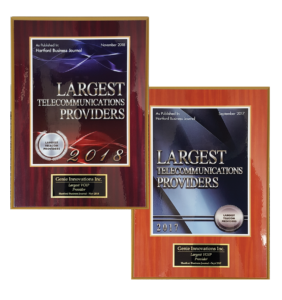 IP Genie, recognized as Hartford Business Journal's Largest VOIP provider two years in a row, offers peace of mind with unique redundancy, fail-over and disaster recovery solutions for organizations of any size.
Our Mission
To provide highly reliable, reasonably priced hosted and premise-based VOIP telephone solutions, Genie Managed Services, plus SIP trunks and lines. We provide our services to municipalities, schools and school districts, non-profits and enterprises of all sizes.
Our Background
Formed in August 2009, Genie Innovations, Inc. (IP Genie) is a Connecticut company which designs, produces and distributes next-generation communications products. These products allow companies of any size -- including non-profits and municipalities -- to take advantage of the newest technology such as SIP (session initiated protocol), and VOIP for their telephone needs, thereby reducing dependency upon the Public Switched Telephone Network.
IP Genie's predecessor was involved in the Interconnect Telephone industry since 1984 and sold in excess of $200 million of AT&T/Avaya telephone products to over 11,000 US corporations during that period of time.
Our Future
Over the last decade, there has been a widespread adoption of a new communications infrastructure based on IP (Internet Protocol) and Broadband Networks. This infrastructure offers a myriad of technological advances. IP Genie continuously creates partnerships and agreements to deliver a practical yet sophisticated solution.
Our Team
IP Genie has a well-seasoned management team with the President, VP Agent Sales and the Chief Technology Officer each having over 25 years experience in the Telephony business, working with or representing Regional Bell Operating Company, AT&T and/or Avaya. The founder also formed and managed a leasing company in the 1980's.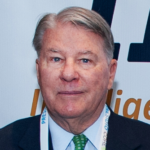 Mr. George J. Taylor Jr., President, Genie Innovations, Inc., is a seasoned executive with extensive experience in the telecommunications industry. He founded an impressive number of communications companies of the course of his career including Farmstead Telephone Company (an American Stock Exchange company), where he was Chairman and CEO for 20 years. In 2009, Mr. Taylor founded Genie Innovations, Inc. to provide hosted premise VOIP solutions to State of Connecticut municipalities, schools, libraries and non-profits. He presently serves as its President.
Mr. Taylor was a Founding Father, President and Board Member of the North American Telecommunication Dealers Association, which numbers over 200 U.S. and International Telecommunications/Computer Dealers.
Mr. Taylor has served on numerous civil and non-profit organizations including as the financial chairperson for his church parish and Board of Director of a local golf country club.
Mr. Taylor holds a Bachelors Degree in Business Administration from Northeastern University.
---
Put the Power of Partnering with IP Genie to Work for You
IP Genie and its partners have facilities and networks in both the United States and Canada. Our operating platforms are some of the most automated in North America. With origins dating back to 2001, IP Genie is one of the most established VOIP digital phone service companies in North America.