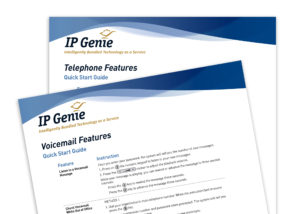 The following Quick Start Guides have been prepared to aid new users in the operation of your new VOIP telephone system. It's also a good idea for experienced users to review the documents for new feature sets which may not have been available during the initial installation.
Download each guide by clicking on the following links
IPG Features Guide-Telephone covers basic telephone operations including placing and receiving calls, call forwarding to another extension or cell phone, call transferring, and more.
IPG Features Guide-Voicemail covers topics such as setting up a new voicemail box, changing passwords, busy and away greetings, and more.
Each guide has been specially formatted to print on standard letter sized paper.